Clocking terminal - Time clocking terminal
Ensure reliable working time monitoring with our clocking terminals
The organisation designs and manufactures a range of clocking terminals, from a basic model to a touchscreen clocking terminal, and also offers modern services for data collection by PC, tablet and smartphone.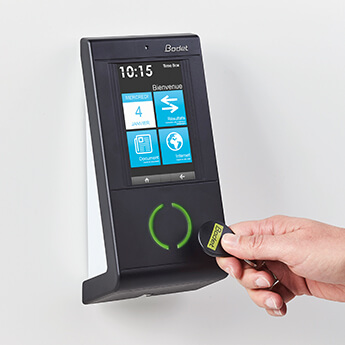 The traditional uses of a clocking terminal
What is a clocking terminal?
Traditionally, a clocking terminal is used to:
Monitor the working time, timekeeping, adherence to schedules of each employee.
Reliably calculate working time.
Guarantee fair treatment for all employees.
Kelio is a range of clocking terminals that adapt to the needs of your organisation. Need a clocking terminal that you can move around anywhere in any environment and that can withstand extreme conditions? Kelio Xtrem is the solution for you.
Looking for a clocking terminal that will provide interactive support between you and your employees? Kelio Visio clocking terminals can be set up to meet the precise needs of your organisation.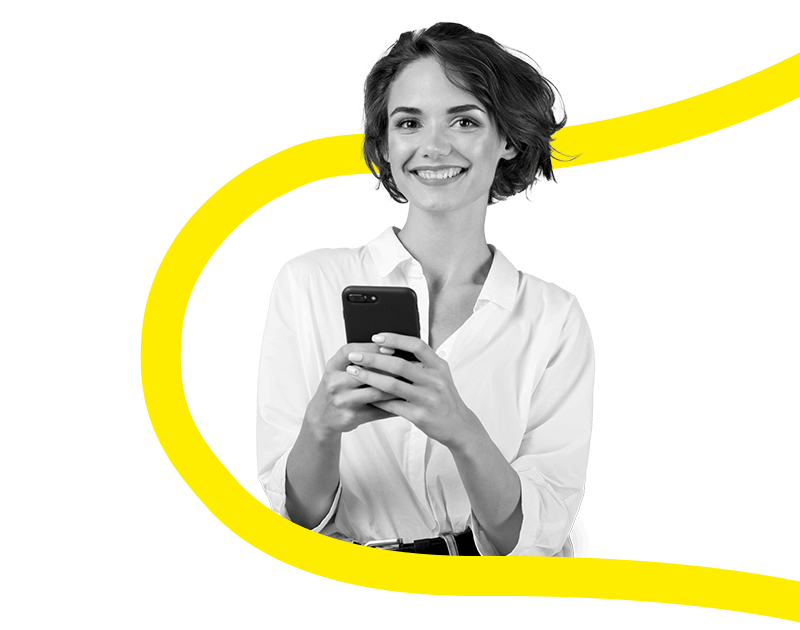 Why choose clocking terminals from Kelio?
We design and manufacture our clocking terminals in house, from the hardware through to the software.
Our clocking terminals offer many benefits:
Connectivity: clockings are sent in real time to Kelio time and attendance software.
Accessibility: employees can view their results right on the clocking terminal.
Adaptability: Need an indoor, outdoor or offline clocking terminal? We have whatever it is you need!
Regulations: our clocking terminals linked to Kelio T&A software are designed to fulfil security requirements in accordance with the regulations in force.
Expertise in time-related activity: a time management specialist for over 35 years.
Discover our range of clocking terminals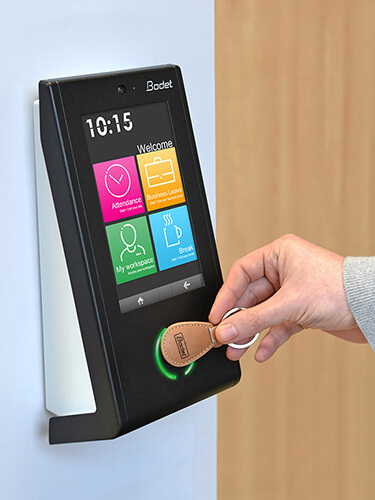 Kelio Visio: more than a clocking terminal
What if your clocking terminal did more for your organisation than just collecting attendance time or activity time data? What if a revolutionary new terminal allowed your employees to clock in and out more easily, quickly and safely? And what if your clocking terminal was simply more useful for everybody?
The new Kelio Visio terminals bring your employees greater peace of mind and added value. Their interactive function gives:
Faultless reading of hours clocked and time counted
The assurance of reliable and verifiable identification: one colleague is no longer able to clock on behalf of another
Use of high added-value applications such as viewing a planning, submitting absence requests, communicating instructions via messaging, etc.
Integration of customisable business processes
The Kelio Visio terminals fit seamlessly with all such solutions, so that clocking becomes more intuitive, more practical, more reliable and, ultimately, is a pleasure every day!
REQUEST A DEMONSTRATION OF THE KELIO VISIO CLOCKING TERMINAL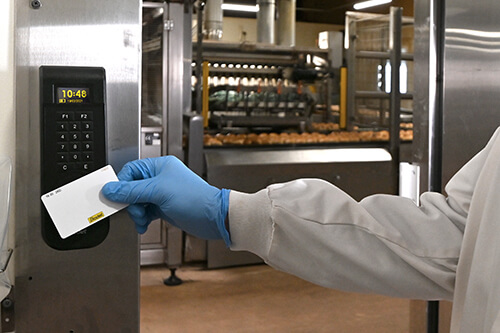 Kelio Xtrem, clock anywhere, in any weather
It's all well and good to have a clocking terminal, but it's even better to have a terminal that can adapt to any conditions! The Kelio Xtrem clocking terminal has been designed with the goal of solving its clients' problems by providing a clocking terminal that can adapt to different environments according to their needs.
Cold and moisture resistant: For both outdoor and indoor use, such as in refrigerated buildings
Moveable solution: Clocking is accessible and available everywhere.
Robust design: Built to withstand heat, sun and shocks.
Flexibility: Keeps your buildings secure.
Synergy: The Kelio Xtrem clocking terminal can be installed as an addition to Kelio Visio clocking terminals and vice versa.
VIEW THE FEATURES OF KELIO XTREM
How to choose your clocking terminal?
Physical or digital clocking terminal?
Choose either to suit your needs ... or indeed both! For all organisations, our professional clocking terminals are fully compatible with our Kelio Time & Attendance management software. So you are able to clock your working time on the terminal, and also on your smartphone or from the Employee Self-Service on your computer.
How is the staffing level within my organisation?
Before deploying a physical clocking system, you also need to consider the staffing levels and size of the organisation in order to identify suitable sites and clocking points.

The range of Kelio clocking terminals is designed and scaled to suit all sizes of organisation, and allows you to deploy one or more terminals at near or distant sites.
Clocking terminal for Very Small Enterprises: we have invented an all-in-one time clocking solution called TimeBox for organisations with fewer than 20 employees.