Absence and Leave Management
The Kelio solution makes it easier to manage staff leave and absences
Managing leave and absences is a complex activity for HR departments and managers. Monitoring leave allowance, validation of accounts, compliance with legislation and declaration requirements are very time-consuming tasks.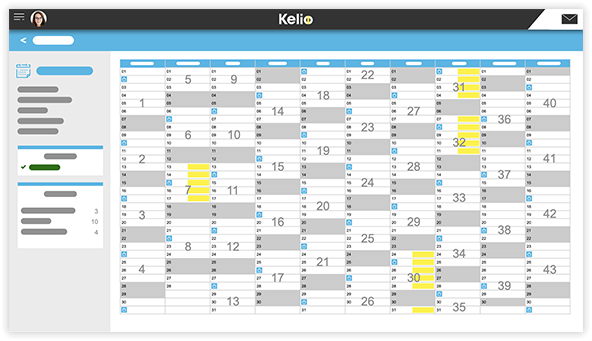 How to record staff leave and absences?
There are many reasons for staff absence: sickness, workplace accident, occupational illness, maternity, delegation, on-site assignment, external assignment, absence for family reasons, medical appointment, etc. and each type must be diligently managed.
Each absence type requires specific controls and monitoring : breakdown in hours, working, business or calendar days, limited duration, conditions for returning to work, supporting documents, and so on...
The Kelio solution is aligned with the full set of collective agreements and to the practices in place within individual organisations. It records absences accurately and checks calculations.
Absenteeism data is presented in a reliable format for ease of processing by payroll and in your mandatory declaration.
Digitise the leave and absence request process
With Kelio software you can set up a decentralised management solution for leave requests, including:
Recording of employees' individual needs
Management of validation workflows
Inclusion of regulatory and organisational checks and controls
Visibility of all results and their impacts on schedules
Staff and managers are engaged in the process and the HR department no longer has to spend time re-inputting data, which can cause errors.
For staff, the interface can be used to:
Submit requests online from their workstation, smartphone or from touchscreen terminals
View their leave balances before submitting a request
View absent employees in their department or project group
Receive notifications of changes to their request.
For managers, the application can be used to:
Monitor and process absence requests from their teams
View the leave schedule for their team and the absenteeism rates
Treat absence requests fairly in line with workload targets in their schedules
Keep informed about any unforeseen absence so they can respond effectively.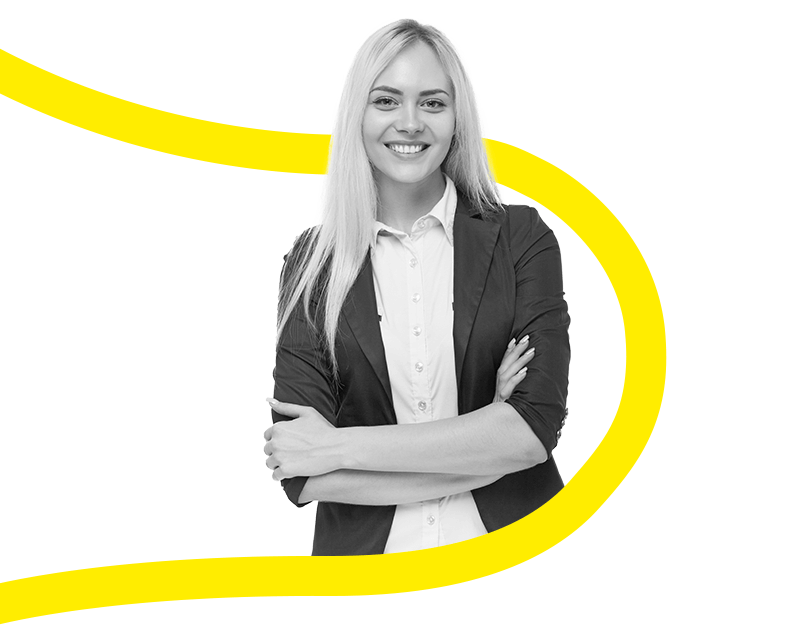 Customisation of validation workflows
Effective management of leave requests involves customising validation paths.
With Kelio you can:
Manage one or more hierarchical validation levels successively or in parallel
Manage different validation paths according to reasons for absences
Designate validation replacements manually or automatically in the event of absence to avoid blocking the validation path
Carry out validations individually or in grouped mode
Monitor leave and absence management in real time
With Kelio, managers have real-time visibility of collective absence planning and their rights.
Integrated seamlessly within your IT system, Kelio synchronises all leave and absence events with your Microsoft Outlook®, Google Calendar® and Lotus Notes® calendars. The ideal solution for making sure shared calendars reflect individual availabilities in real time.
Synchronisation is also possible with the Kelio Planning module. The various leave requests that are validated, pending validation or pending deletion are identified in graphical form in your planning grids. You can view the number of absent employees by day, by reason for absence and if relevant by work post, to adapt your staffing levels in real time.
Send your data directly to payroll
Compatible with over 150 payroll applications, the Kelio software automates input of absence events with no need for re-input and no risk of errors to produce pay slips and synchronise mandatory declarations. Kelio offer integrated reporting functions that produce individual and collective leave statistics for decision-making purposes.
Leave breakdown summaries by reason for absence, employee or department have never been so easy to put together.
Plan a customised demonstration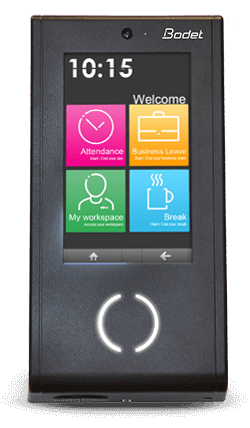 External assignment management
When an employee leaves the company premises to perform an external assignment, the absence must be logged without being deducted from the working time. Similarly, staff representatives take hours off for relevant activities, which must be identified and counted without being processed as absences. The Kelio solution provides various options for regulating these practices.
Staff can use the self-service page to declare external assignments or can clock directly on touchscreen terminals within the organisation. These mechanisms support staff by giving them accurate information about their accounts and allowances, and enable the organisation to comply fully with its responsibilities in the event of any incidents that might occur during an assignment.
Any questions about this feature? Contact Us
Why choose Kelio for my
leave

management?
Decentralisation of leave requests
Viewing of estimated leave balances
Automatic calculation of leave allowances
Validation of requests by managers, individually and in group mode
Overall visibility of absences within a department in real time
Simplified management of validation workflows
Easy transfer of absenteeism data to payroll and mandatory declarations