Meeting room bookings
A simple way to manage meeting room bookings and keep your equipment safe
By linking in with your Outlook© (Exchange)* calendar, the Kelio Reservation module optimises use of your meeting rooms. Kelio Visio X7 communicating terminals are installed outside your meeting rooms to make them easier to manage and provide accurate visibility of their occupancy.
A simple way to manage your meeting rooms with no need to change your Outlook®* user habits
Many organisations use Outlook® to manage their meeting room bookings. Despite this, booking conflicts often occur and room usage is not optimised. Rooms are sometimes already in use or not used at all.
Kelio Reservation is the ideal addition to your Outlook® tool. Designed as a gateway between Outlook® and Kelio access control solutions, the module optimises room booking management without disrupting current user practice.
*Kelio Reservation is compatible with Outlook® calendars or any other messaging system (email client) hosted on an Exchange server.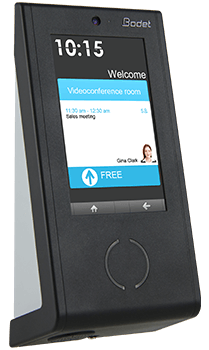 Improve flexibility with a Kelio Visio X7 touchscreen terminal outside each meeting room
With a Kelio Visio X7 smart terminal fitted outside your meeting rooms, you can:
View room availability
Make a booking directly from the terminal
View information on a pending booking
Control room access: only meeting attendees are authorised to access the meeting room during the period booked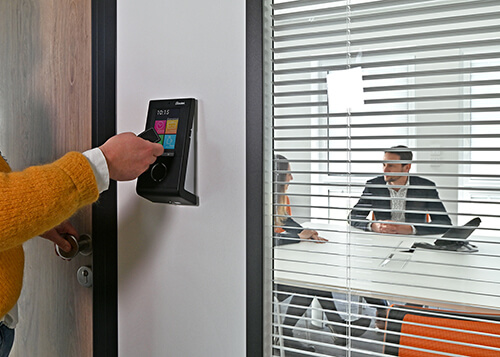 Synchronised bookings to optimise room occupancy
Room booking information is updated and shared in real time:
A meeting created in Outlook® is sent to the touchscreen terminals: booking information is displayed live, right outside your meeting rooms.
You create or change a booking from the Kelio Visio X7 touchscreen terminal: the attendees receive a notification in their Outlook® calendar.
If your meeting ends earlier than expected, you close the meeting directly on the touchscreen terminal to mark the room as available for another Outlook® booking.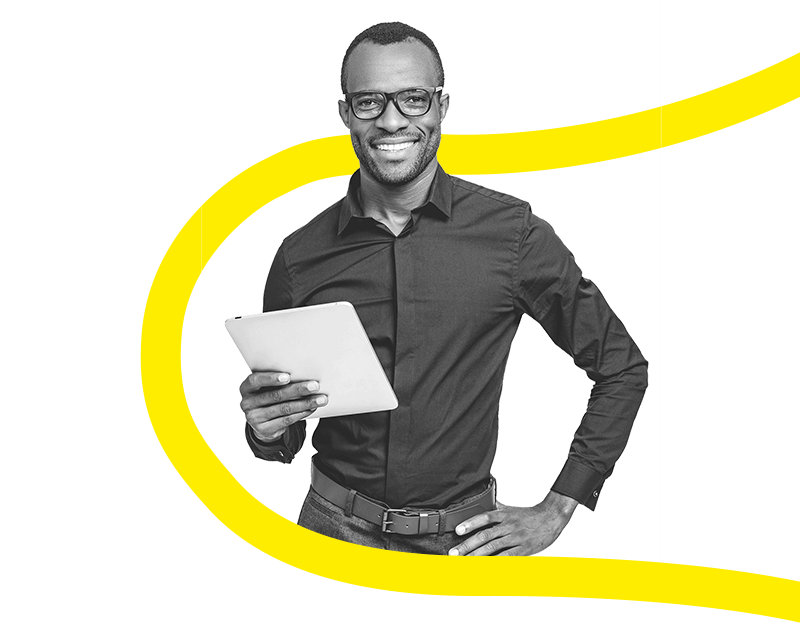 Secure access to meeting rooms
With Kelio Reservation, access to your meeting room is secure.
Video projectors and sensitive equipment are kept safe: only the organiser and attendees will be authorised to open the room with their badge, and only during the booking period.
If an incident occurs, the room bookings can be tracked.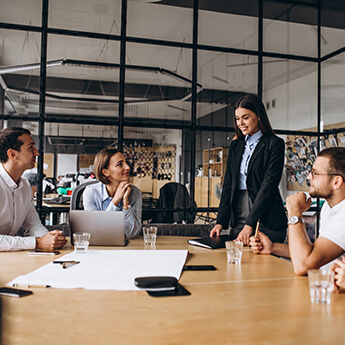 Save time organising meetings
Kelio Reservation saves you time planning your meetings, making it easier to search for available meeting rooms – even at the last minute !
You can also prevent untimely interruptions, as only meeting attendees can access the booked room.
Request a demonstration of meeting room management
Why choose Kelio for my
room reservation

management?
Gateway between Outlook® and Kelio access control solutions
Room availability displayed in real time, on touchscreen terminal and in Outlook®
Access restricted to the meeting organiser and attendees
Meeting can be closed from the terminal to free up the room in Outlook®
Rooms are automatically locked, if wished, to protect the equipment inside