Visitor management
Modernise the way you greet and monitor visitors
Kelio Visitors is a software solution designed to update your reception area. The module offers a simpler way to manage your visitors and control acces better. Used in tandem with Visio X7 touchscreen terminals, Kelio Visitors refreshes your reception environment and enhance your company's image.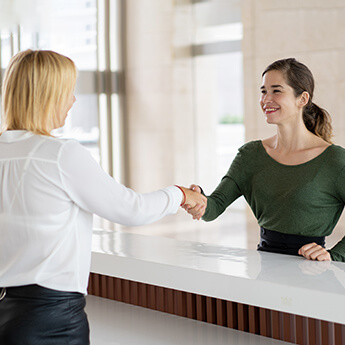 Issues involved in visitor acces control
An organisation receives many visitors every day - postperson, delivery person, service provider, visiting customer, maintenance worker, interview candidate, etc.
Greeting and managing visitors is a significant issue for organisations, affecting their image and their security:
Reception is non-existent, overstretched or too costly
Reception is operated by security staff who are not trained or suited to the task
Poor communication of information regarding expected visits
Lack of security (paper-based reception log, reduced vigilance, etc.)
Increased risk of unscheduled or anonymous visits
Lack of awareness of which visitors are on the premises, etc.
The Kelio Visitors software solution, integrated in the Kelio Protect and Kelio Security modules, is a simple way to greet your visitors and secure your buildings and staff.
The access solution that modernises visits to your premises
Kelio Visitors is a multi-purpose software solution that guarantees:
A modern reception environment, as a standalone facility or with reception staff
Creation of different visitor profiles
Implementation of specific reception procedures according to visitor type : one-time access code for a delivery person, personnalised greeting for a customer, etc.
Rapid identification of scheduled visitors or input of information on unscheduled visitors
Updating and sharing of a visitors schedule
Greater security for visit procedures : mandatory signature of a digital logbook
Traceability of visits
The Kelio Visitors module can be used in tandem with the Kelio Visio terminal (optionnal) for increased flexibility of use and a highly modern reception environment.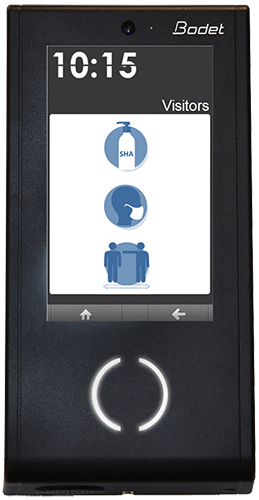 How to implement safety measures for the reception of visitors to your organisation ?
To ensure the security of your staff, it is important to restrict access to your premises to avoid unwanted intrusions. But at the same time, it is still necessary to authorise visits and circulation of external parties that are essential to the smooth running of your business - delivery staff, postal workers, maintenance staff, etc.
The Kelio visitor management solution allows you to customise your visitor reception according to your needs, in the safest possible conditions.
With Kelio's visitor management software, you can:
Automate your organisation's reception,
end QR codes to your visitors in advance to anticipate visits,
Ask your visitors to fill in to answer a questionnaire beforehand (e.g. health questionnaire),
Trace your visitors in compliance with GDPR requirements,
Distribute safety instructions or health protocols specific to your activity,
assign an access badge with specific rights for each type of visitor.
With Kelio software, you can anticipate and manage your visits and the different types of visitors. Thanks to the precise history of visits in your premises, you can keep track of any incidents.
Contact Us to implement safety measures for the reception of visitors
Manage scheduled or unscheduled visitors with total security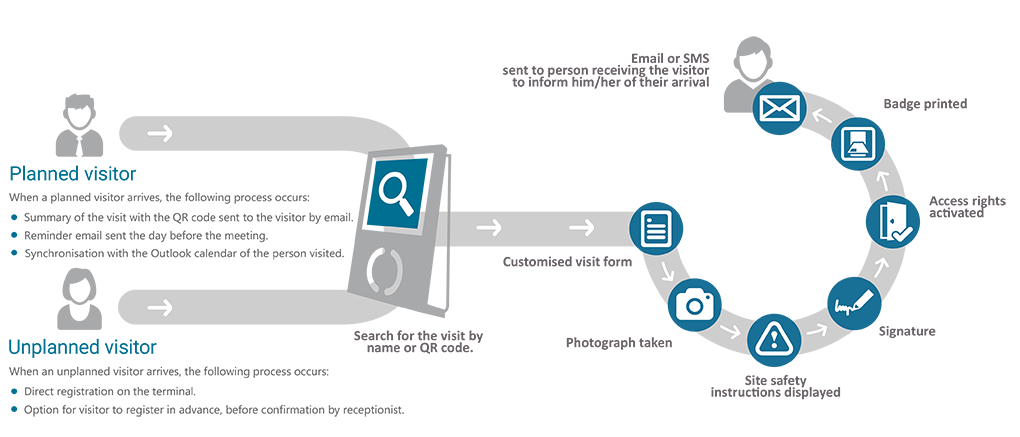 Your staff schedule their visits in the Kelio Visitors module:
Pre-registration of visits by individuals authorised to receive visitors
View scheduled visits by type: current, future, not made, completed
Print a visit file with signature option
Synchronise the employee's Outlook© calendar
A confirmation email, containing a unique identification QR code, is automatically sent to the visitor. A reminder email will also be sent the day before the appointment.
The software can also be used to manage unscheduled visits:
Autonomous or assisted input of the visitor's identity on the Kelio Visio touchscreen terminal (last name, first name, purpose of visit, etc.)
Badge printing
Notification to the host employee.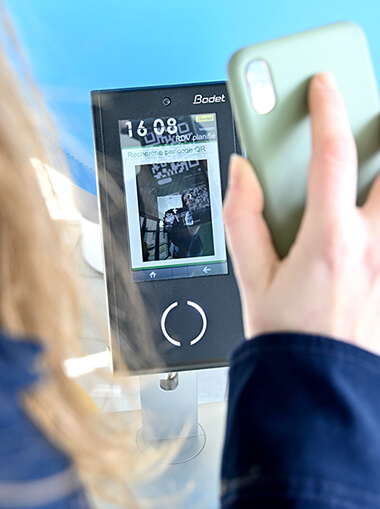 A simple, modern way to greet visitors using Kelio Visio touchscreen terminal
Kelio Visio is an interactive touchscreen terminal that offers a simple, efficient way to greet visitors. It allows the visitor to:
Sign in on arrival, registering their visit directly on the terminal or scanning the pre-registered QR code
Read the security instructions
Have their photo taken to complete their visitor file
Sign the digital visitors log directly on the digital terminal.
After the visit, the visitor simply signs the touchscreen terminal to end the visit.
The modern-looking Kelio Visio terminal needs no human intervention and can be used in addition to or to replace reception staff.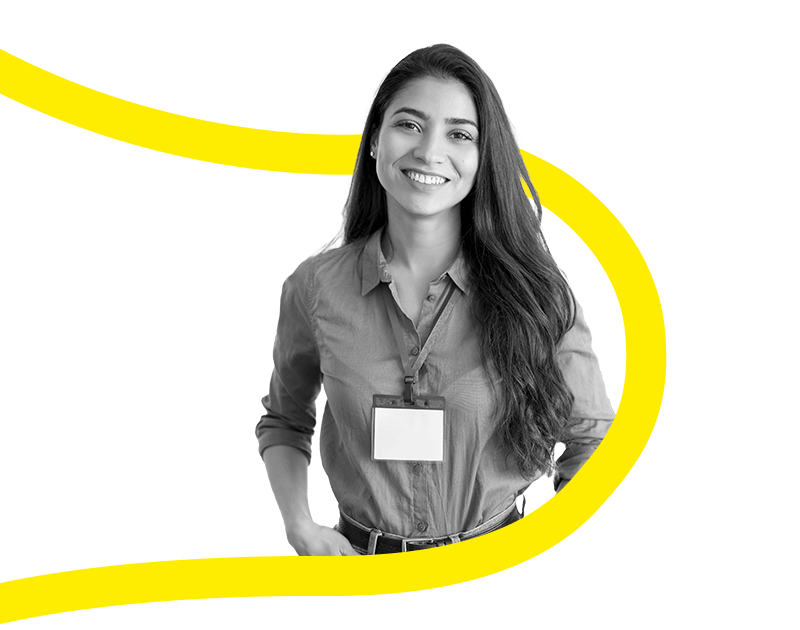 Identify visitors
The employee is notified of their visitor's arrival in real time, by SMS or email.
Visitors wear a badge so they are clearly distinguished from members of staff. You can pre-register a number of badge templates and automatically launch single or grouped print jobs.
Badges are returned at the end of the visit, using a badge return slot.
Identify who is in the building
Kelio Visitors make it easier to distribute visitor schedules to relevant staff and to manage Access Control: reception staff, security staff at different site entrances, etc.
In there is a fire evacuation, you know precisely who is present on the premises, including visitors.
Why choose Kelio for my
visitor

management?
A modern reception solution, available in 17 languages
Reception and security procedures to suit all visit types
Updating and sharing of the visitors schedule in real time
Communication of security instructions to visitors
QR code or unique identification number
Inclusion of visitors on FES lists in the event of fire alarm