Why use an HR Portal for my staff?
Provide your employees with a self-service HR system that decentralises your time and attendance management processes
Discover a genuine Employee Self-Service solution, designed to save time for your HR department, while getting your staff involved and empowering your managers, on a daily basis.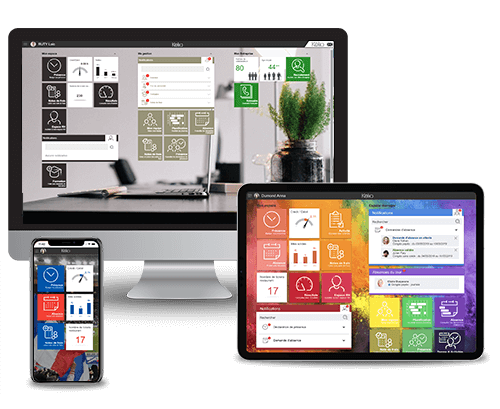 A customisable, intuitive, collaborative HR Portal
Discover an HR Portal that digitises and streamlines your HR or time and attendance management processes.
Adaptation to the user profile: employees, managers and HR administrators will have a different portal displaying only the functionalities they are authorised to use
Advanced customisation: the platform can be adapted to your company's colours and graphic identity
Multi-device: the HR Portal can be adapted to the device used - PC, mobile or tablet
Intuitive, centralised navigation: easy access to all software functionalities via colourful labels and an intuitive navigation menu
Real-time notifications: benefit from up-to-date monitoring of absence requests and attendance declarations
Rapid viewing of results: the day's clocking operations, personal results (remaining leave, working time balance, etc.) and business indicators are directly displayed on the user's portal.
From this portal, each person can access all the functionalities within their HR Collaborative Area.
Digitised HR personal area
A genuine link with your employees and managers, the collaborative area decentralises your information and actions.
Your time and attendance management processes (absence requests, attendance declarations, etc.) are simplified by involving your staff more and better empowering your managers. Your employees have more autonomy in their day-to-day activity.
Key points:
Virtual clocking in and out
Viewing of clocking operations for the day, week or month
Management of clocking declarations with or without workflow validation
Attendance management for executive staff on a fixed day rate
Management of absence requests with customisable workflow validation
Viewing of individual and collective schedules
Declaration of activities
Viewing of individual results for time and attendance management
Tracking notifications of the progress of absence requests and attendance declarations
Customisable, intuitive user interface
Configurable user rights to adapt to different user profiles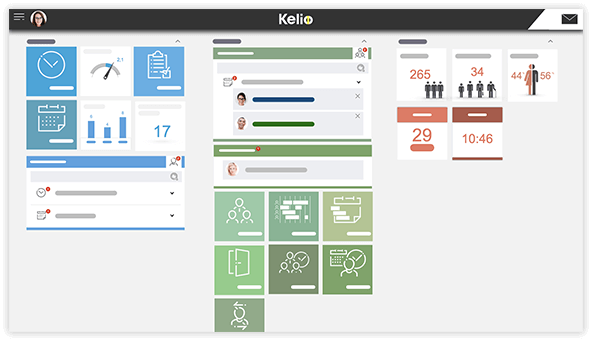 The benefits of a self-service system dedicated to employees
Give your employees more autonomy
Personal information and results are made available, in real-time, in a simple and easy-to-view format
The speed of dialogue and the workflows enable everyone to react more quickly
The accessible data and processes are dependent on the profile and customisation of each individual employee, adapting the available functionalities to their particular situation (executive, non-executive staff, roaming staff, etc.)
Accessible on PC, tablet, smartphone: employees can consult their accounts or submit their absence requests without contacting the HRD or their manager, thanks to multi-device access
Collaborative portal accessible from an Internet browser 24/7.
FIND OUT HOW TO DIGITISE THE ABSENCE MANAGEMENT PROCESS
The managerial advantages of decentralised time and attendance management and job costing
 Increase the productivity of your managers
The HR Area has been designed to assist managers with a view to increased transparency and productivity. Here are a few practical aspects:
Managers use a system of visual notifications, email alerts and dashboards to enable them to prioritise their management tasks
At any time, managers can see who is present, absent, or working off site, and find out who is working on what tasks or what projects
From their own workspace, managers can see the requests submitted by employees and can act rapidly to validate, deny or mark them as pending
End-to-end digitisation of processes eliminates any need for the manual input of data and limits the risk of error
Digitisation of managers' tasks increases their productivity, freeing up time for other activities with higher added value.
Why choose Kelio for my
HR portal

?
Reliability of results and real-time updates
Complete digitisation of processes
Increased empowerment of managers and autonomy for employees
Control and adaptability of user profiles
Improved cross-company communication
Direct impact on the labour relations climate of the company with staff expectations better taken into account
SaaS mode, high availability and service guarantee.