HR Onboarding Software
Streamline the process of integrating new starters into your organisation
Create a tailor-made onboarding experience to welcome new employees. Kelio's software solution helps you make their first steps within your organisation easier, and helps you build employee loyalty and retain talent, right from the start.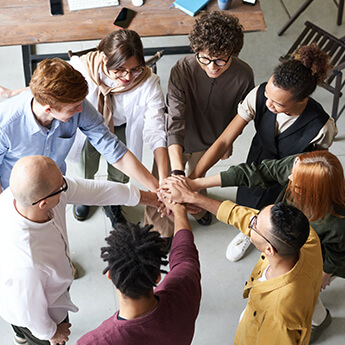 What is an HR Onboarding process?
Onboarding is the process of welcoming new employees, integrating them into the organisation, and monitoring their progress during the new starter stage. The aim is to optimise a new employee's experience of joining the organisation, and to make it smoother and easier.
The objectives of the Onboarding process are to:
Familiarise employees with their new working environment: getting to know the organisation, its values, mission, internal processes and procedures, etc.; as well as providing information about their position, role and responsibilities within the organisation
Ensure that the employee is well integrated into the team, to facilitate individual and team work
Provide the tools and information necessary for them to carry out their duties: workstation, access badge, PPE, internal documentation, etc.
Ensure a successful start for the employee in their new role, with a rapid speed to competency, thanks to the communication and support that has been provided in advance
Gather feedback from the employee via new hire feedback reports, once they have started their new role, or via end-of-probation appraisals, in order to continuously improve the Onboarding process.
HR Onboarding is an important step, and it plays an essential role in maintaining employee motivation, retaining talent, and consequently reducing employee turnover.
By using Kelio's Onboarding software, you can provide a smooth and personalised experience for your new hires, even before they join the organisation! Simplify your onboarding processes and effortlessly coordinate all stakeholders involved in integrating your employees into the organisation.
Preboarding: the key to successfully integrating new starters into your organisation
Preboarding is a key step in the Onboarding process. This is the phase that takes place before a new employee joins the organisation, and right after they have been hired into a role.
This stage, which takes place prior to Onboarding, will take some time to complete and can be as short or long as you wish. It includes various points of communication, both related to administrative aspects and to preparing the employee to join the company. What's important during this stage is maintaining the employee's level of motivation, leading up to their first day at the organisation.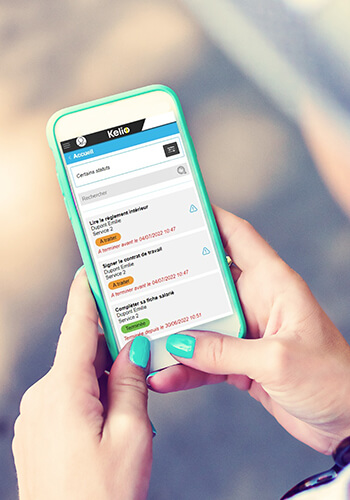 To help you do this, Kelio's HRIS software offers a comprehensive preboarding solution. Once they have received their login details, your new recruits will be able to log in to their Kelio employee portal, where they can:
Enter their personal information directly into their Kelio employee file, and submit various administrative documents
Finalise and sign their employment contract and sign the corporate charter, or any other HR document, via electronic signature
Explore their new workspace, which is customised to reflect the organisation's corporate colour scheme, and view a range of information (welcome pack, latest news, etc.) – all before their first day
Interact with their future colleagues and manager, through the integrated messaging feature
Obtain any important information that you wish to send to them ahead of their first day such as directions or a training schedule.
All of these decentralised actions relieve the HR department from having to carry out administrative processes, and enable your new hires to play an active role in their onboarding process, while gradually becoming prepared for their new role within the company.
This Preboarding stage is often overlooked, but it plays an essential role in securing new hires and promoting the employer brand.
How do you set up an HR Onboarding process? An easier way to manage onboarding tasks
Kelio Onboarding software enables you to automate onboarding tasks related to new starters, making the whole process smoother and easier.
As an HR administrator, you can list the actions to be carried out to prepare for the arrival of a new employee, and identify the employees and departments that will be involved in this process (IT department, line manager, etc.) within the Kelio solution.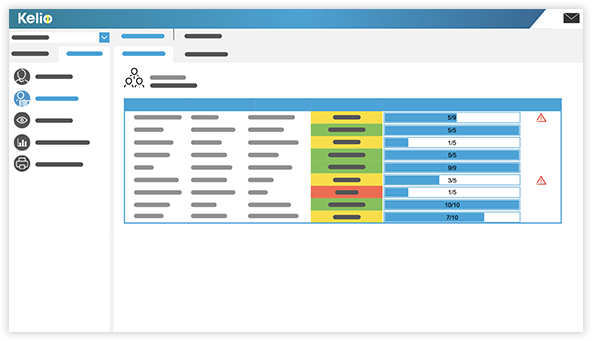 These checklists can be customised to meet an organisation's specific requirements and include, for example:
Draw up and sign HR contract documents
Configure a PC or access badge
Provide tools and equipment the employee will need to fulfil their role: individual protective equipment, smartphone, company car, etc.
Prepare a welcome pack
Schedule mandatory appointments: medical check-ups, training in the organisation's safety and security procedures, etc.
Specify a time limit for completing these actions, and designate mandatory fields or specify mandatory documents to be uploaded.
Create task sequences: the assignment of a task can be conditional upon the completion of a prior action.
As an HR administrator, you can monitor the completion of the actions within the Onboarding process in real time, from your dashboard, and you can set up alerts to notify you of any delays. The Kelio Solution helps to ensure that your employees complete each task on time. Reduce errors and delays within your HR Onboarding process, with Kelio's software solution
You no longer need to create a new Onboarding process for each new starter! Kelio's software solution implements your pre-set, customised workflow processes, based on your employee categories.
Customised Onboarding – for an onboarding process that reflects your values, and perfectly meets your needs
You can control every parameter of your Onboarding process, to ensure it reflects the values and culture of your organisation.
Kelio's software solution enables you to fully customise your onboarding process according to your organisation's specific requirements: number of tasks, sequence of actions, deadlines, associated employees, tools to be provided, retro-planning, etc. You will create a sense of belonging and engagement among new employees, from the moment they join the company.
With Kelio, you can standardise the Onboarding process throughout your organisation, ensuring an optimal experience for all your new starters when they join the company, as well as enhancing your employer brand over the long term.
Offboarding, Reboarding…: why you should enhance your longer-term Onboarding process
Thanks to its customisable features, Kelio's software solution simplifies and supports internal HR processes, following the same principles as the Onboarding process. This means you can centralise and automate HR processes such as:
Reboarding: facilitate the reintegration of an employee following a long period of absence (resulting from a long illness, maternity leave or sabbatical, return from a period abroad, etc.)
Crossboarding: make the process of an employee changing role within the same organisation simpler and easier
Offboarding: take care of the various aspects of managing the departure of employees leaving the organisation, to ensure that all necessary tasks are completed, such as returning work equipment and access badges, deactivating access to IT systems, termination of subscriptions and other administrative formalities, full and final settlement of salaries, completion of payroll declarations, and so on.
Kelio's Onboarding software offers a comprehensive solution for managing the entire employee life cycle, from the recruitment stage right to the end of their time at the organisation.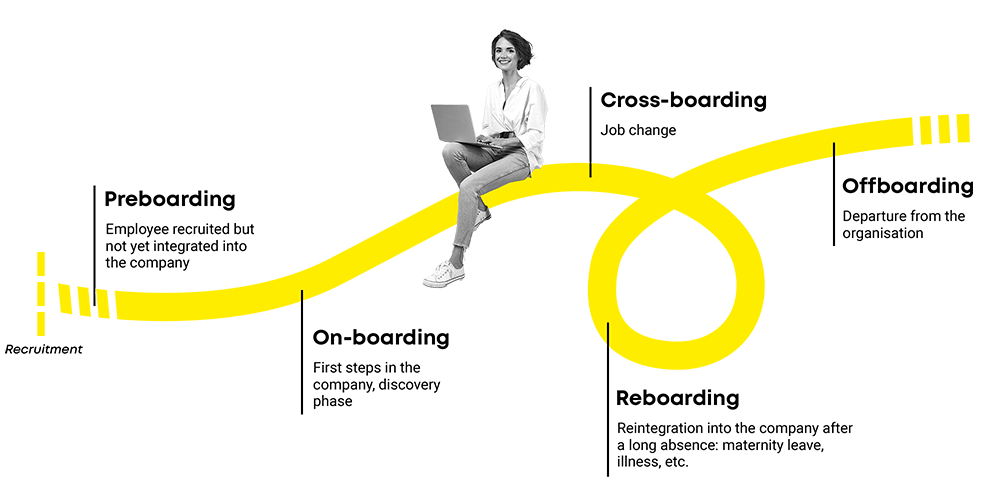 Why choose Kelio's software solution to help manage your
Onboarding

process?
Seamless integration of your new employees, customised to your needs, to optimise their onboarding experience even before their first day of work
Increased productivity of HR managers, through automation, delegation and easier tracking of onboarding tasks
Reduction of errors and delays, through accurate planning of actions to be carried out
A better experience for your employees, who will feel welcomed and taken care of by the organisation, right from the start
Enhance your employer brand