Training on Kelio's software
User training is a vital step in ensuring that your employees are ready to take ownership of the Kelio software.
An effective and recognised training process has been developed, taking into account the specific context of your own organisation.
The training of your users is a crucial step for the success of your HR or access control project
We believe that your users should be independent in being able to use and configure their software tools.
Autonomy of use is essential in order for your organisation to remain in step with constant change and developments:
to your organisational structure: new work schedules, organisational changes, etc.,
to your collective agreements,
to employment legislation,
to regulations: to the GDPR, security requirements, etc.,
to your buildings: new site openings, renovation of premises, etc.
This is why we pay particular attention to user and administrator training.Skilled, autonomous users will be competent in using all the functions of the software solutions, allowing for significant gains in productivity and a rapid return on investment.
A sequenced learning pathway that allows you to reach your professional objective
Software user training follows a comprehensive learning pathway, aimed at:
Software administrators: training on how to set up of schedules, configure user rights, define workflows, administrate employees, etc.
users in HR or other sections: operational processing, tracking anomalies, compiling reporting, etc.
In advance of the training, the software is installed and a functional audit is conducted, which allows the training provider to adapt the training to your needs by referring to specific cases and the unique characteristics of your organisation.
Different training packages are available:
Standard training: a set of standard courses to provide your users with the essential knowledge for optimal administration of the Kelio solutions.
Customised training made to measure: variable training options for a programme adapted to your needs.
The training sessions range from a half-day to several days, according to your organisational structure and your requirements.
Various training methods are available:
On-site training: a training provider comes to your organisation to carry out dedicated training.
Virtual classes: a training provider trains you remotely in real time.
E-learning: self-training while connected to the Kelio Academy online training platform.
To adapt to your individual learning pace and needs, we can set up a "blended learning" training plan for you that combines these different teaching formats.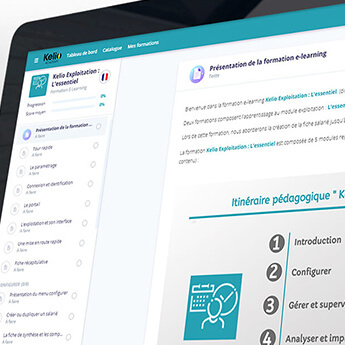 Kelio Academy: the e-learning training platform for using software
The Kelio Academy platform allows users to train themselves autonomously, at their own pace, via e-learning training modules on our solutions:
Kelio administration
Remote working in Kelio
Quizzes and specific scenarios throughout the training modules allow users to put their acquired skills into practice and reinforce their knowledge.
The e-learning training is recommended for quickly bringing new employees up to speed on working with the solutions.
WOULD LIKE INFORMATION ABOUT KELIO ACADEMY E-LEARNING TRAINING COURSES
In 2022, training represents
96.3%
of clients were satisfied by the training given by our training providers
+3886
days of training provided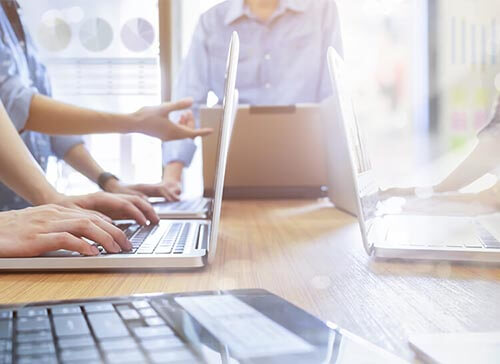 Professional training providers, employed directly by the company
The consultants are professional trainers, employed directly by the company.
In order to guarantee the quality of the consultants, the internal training department trains them regularly in:
The Kelio software,
Kelio Visio and Kelio Xtrem clocking hardware, and access readers and hardware (Kelio Pass, compatible readers, etc.),
Training-specific teaching methods.
The consultant-trainers are well experienced, with a good awareness of issues relating to employment law and associated regulations.