Audit and assistance for your project
Dedicated teams to assist you with HR Management, Time & Attendance and Access Control projects
As a software publisher and integrator, our teams assist you in auditing your requirements, rolling out your software and hardware solutions, and after-sales support
Our customer support services
Using tried and tested methods, plus 35 years of expertise, our engineers, consultant-trainers, project managers and works managers put their skills at your service, to guarantee the success of your Time and Attendance , Human Resources management and Access Control projects.
We offer a range of services to support you:
Functional and technical analysis
Production of design models
Assistance with functional setup
Hardware installation
Start-up support
Coordination of steering / users committee
Rollout monitoring with a project manager
Telephone support and assistance
Audit and adaptation of the solutions to your requirements
Kelio software is a modular solution that features different options adapted to your specific requirements.
Sales engineers will help you identify your requirements and guide you towards the most suitable options:
Is there scope to optimise absence request or expenses processes in your organisation?
Do you want to improve management control by measuring the time your teams spend on different activities?
Do you need to have specific indicators in your planning tool?
Does your visitor reception reflect the image of a modern organisation?
Setup and activation of your HR and Time and Attendance software: over 35 years' experience
Implementation of your HR solution is a critical stage in ensuring its serviceability and optimising your return on investment. It extends beyond mere technical aspects and involves supporting your teams in managing the changes brought about by new tools, while translating your processes into the software.
We have teams of consultants, based all over the country.They are employed directly by us, and specifically trained to assist you in the various solution implementation phases.
Two rollout methods, have been developed, tried and tested over a number of years:
Supported rollout
This option implements your solution rapidly and efficiently, using fixed-price service packages to guarantee optimum return on investment.
Technical and functional audit
IT rollout
Installation and connection of clocking terminals
Customised software setup
Change management and training for administrators and users
Project mode rollout
This option guarantees tailor-made services, adapted to the specific features of your project. It is recommended for more complex organisational setup (multi-site, multi-cultural, large companies, etc.).
Project management, led by a qualified project manager, is based on a standardised approach in conjunction with our ISO 9001 certification, and may include up to seven stages.
1
Initialisation
Launch, presentation of project and teams
2
Suitability analysis
Analysis and validation of technical and functional requirements
3
Implementation
Installation, data transfer and setup
4
Training
Knowledge transfer to administrators and users
5
Acceptance
Assistance with acceptance testing and assessment
6
Production launch
Assistance with production launch
7
Post-production monitoring
Project validation and closure
Installation of your access control system: a turnkey solution
Software publisher, manufacturer and installer – Kelio offers a turnkey access control system.
.Our own specially-trained works managers and technician-installers will oversee your project.
Supported by a network of approved contractors, our works managers monitor and coordinate on your behalf:
Electrical cabling
Installation of access equipment and obstacles such as barriers, tripods, turnstiles, etc.
Next, our technicians perform:
Installation and connection of access readers and concentrators
Management of auto controls
Installation of intercom systems
Full Kelio software setup
Administrator training
Thanks to our project management services, we guarantee a fully operational access control system at the end of your project.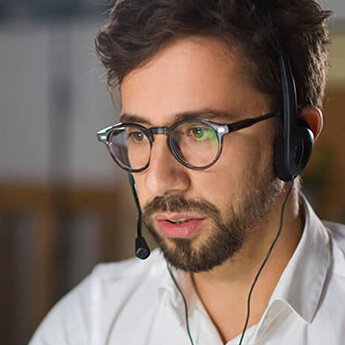 Technical support
International technical support, based in France
As part of the maintenance contract, you have access to the international telephone support service, based in Cholet, France.
With 83 advisors speaking five languages, the service aims to:
Help users manage day-to-day operations
Help administrators modify the software setup rules
Resolve any technical issues
Help with functional and technical updates to Time and Attendance and access control software and hardware
As part of our ISO 9001 quality procedure, we:
Individually follow up each call received
Send a written report after each call
Have an average response time of less than five working hours, between submitting your support request and resolving your issue
Our advisers respond to calls of a highly technical nature and are able to reproduce the most complex scenarios on our test platforms.
Support
Available, responsive support
There are two support packages:
Performance Formula: for comprehensive, expert support
Excellence Formula: for bespoke support by a dedicated contact person, with optimum response times
Via the online support module BSupport, you can submit support requests at any time of day, and our advisors will call you back during service opening hours. Much better than waiting on the phone!
Your satisfaction is our priority
In 2022, 96% of our customers said they were satisfied (6,200 responses) with the installations carried out and the training received. The hotline service has a satisfaction rate of 99% (6,500 responses).
International support in five languages
99% of customers satisfied with the telephone support service
120,600 calls per year