Quality Control
Quality software and hardware for Time and Attendance , Human Resources management and Access Control
Quality is one of the fundamental values of the Bodet Group.Far more than just the methods employed, it is a mindset shared by all staff.
How do we guarantee the quality of its clocking terminals and access readers?
For over 20 years, our organisation has had its own dedicated software testing department. This team of over 20 people is independent of the software design office, and is fully dedicated to testing prior to the launch of any Kelio software versions.
Each new version is subjected to over 30,000 check (alpha tests), following a rigorous testing procedure of:
Functional "black box" type tests
Load tests
Performance tests
Automated tests, etc.
In addition to these in-house checks, the software is also "test run": each new version is pre-installed on pilot sites and used in real-life conditions for several months, to assess its functionality from a technical and functional point of view.
In total, testing each new version of Kelio software solutions takes no fewer than 2,500 labour days.
How do we guarantee the quality of its clocking terminals and access readers?
The Kelio Visio connected terminals and Kelio Pass access readers are designed and manufactured at our own factory located in Trémentines, France.The entire manufacturing process is managed in-house.
The software and hardware design teams work together closely to ensure full technical and ergonomic compatibility between the readers and applications. Similarly to the software, the clocking and access control hardware is rigorously tested by in-house test department.
All access readers and clocking systems remain fully compatible with its Kelio software, regardless of the version used.
Quality: a shared value
Quality is a constant focus backed by a specific organisational structure.
The test department has a role of second level support, in the event that a technical difficulty cannot be resolved by the support service.Using its own test platforms, the test department is able to reproduce any complex situation encountered by a Kelio software user, and correct any difficulties with optimum response times.
The organisation achieved ISO 9001 certification in 1997 and ISO 14001 certification in 2014.
Over 30,000 quality checks
20 dedicated staff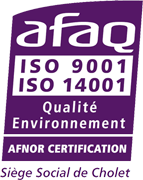 ISO 9001 and 14001 certification