Your smartphone: a time management and access control badge that follows you everywhere
Turn your phone into a
digital badge

!
Modernise clocking in your company
Distribute all your badges in a few clicks from your PC
Have all your new arrivals clock in from the first hour
Secure your access control and make your working time clocking reliable
The advantages of the badge on your smartphone:
Multi-site distribution made easy
Secure badges that can be deactivated remotely
Economical - you're only charged for the badges used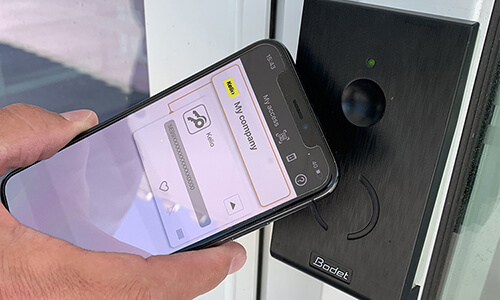 Make your badge management easier
WIth the Kelio virtual badge:
Save on costs due to company badges being forgotten, lost or broken: it's embedded in your smartphone.
Make badge distribution easier: just send a secure e-mail, even to your most remote employees.
Minimise badge swapping between employees: it's easier to swap a badge than a smartphone.
Finally: secure, easy and fast management.
I clearly recommend the Kelio digital badge for several reasons such as: logistics - no more distribution issues - and security - no need for a key cabinet. In my opinion, it's a real time saver, especially for remote management.
Ouassila Gahlaza
Facility Manager at the Réside Etudes Group.
Welcome your new employees with total simplicity
The Kelio
Facilitates the reception of new employees: HR onboarding can now take place remotely. No need to pick up a badge before starting a job.
Secure access to buildings: the employee is registered before they arrive in your company's access control system.
No more hassle when you reach the clocking terminal, your badge is already on you.
The virtual badge: secure technology
The virtual badge is based on ultra-secure technologies: NFC (Near Field Communciation) and BLE (Bluetooth Low Energy), which are also used for contactless payment.
These protocols are standard and present on all modern smartphones.
Orange Business Service supports Kelop with the distribution of virtual badgesby secure e-mail, guaranteeing optimal security across the user chain.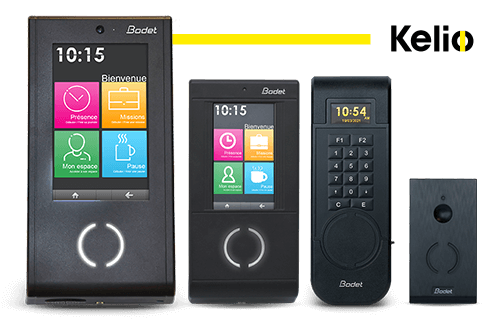 Discover our range of multi-badge clocking terminals and access readers
All the Kelio clocking terminals can recognise both physical badges (RFID) and digital badges (BLE/NFC).
Offer your employees the plastic badge or virtual badge on smartphones. They can clock on the same terminals.
Kelio: benchmark HR and payroll software publisher for comprehensive employee management
KELIO: YOUR LONG-TERM PARTNER
Kelio is a designer, publisher and integrator of human resources management (HRIS), time management, payroll management and access control software. For 35 years, it has provided software and hardware suites for organisations of all sizes and business sectors to facilitate the management of their human resources. Its ISO 9001 and 14001 certification guarantees you the high quality of its products and services.
BENCHMARK HRIS SOFTWARE AND ACCESS CONTROL
Our software is used by over 35,000 clients worldwide, representing over 5,000,000 daily users. Our clients include: Amazon, DomusVi, La France Mutualiste, Léa Nature, the Puy du Fou theme park, Smurfit Kappa...
A COMPREHENSIVE OFFERING, SERVICE INCLUDED!
Our teams support you from the audit of your needs to installation, configuration and training on how to use our solutions. Kelio is Qualiopi certified for its training initiatives. Our support service guarantees a high level of service, rewarded by a 99% customer satisfaction rate (2022 study).
CHOOSE INNOVATION WITH KELIO
The company has existed for 35 years and constantly innovates on the digitalised HR management market to increasingly enhance the employee experience. Creator of the collaborative touchscreen clocking terminal, a pioneer in SaaS management, a player in HR mobility and UX design... Kelio is set apart by the innovations that guarantee the development of its solutions over time.
Contact us to find out more